This is the retreat confirmation letter, which contains all pre-retreat information including lists of planned workshops and special activities. Also see the carpooling bulletin board on the forum.

The Women & Religion PCD 2012 Annual Women's Retreat
Women & Religion, Pacific Central District
Unitarian Universalist Association
Welcome Women! We look forward to seeing you at Welcoming Spirit—Celebrating Our Herstory, March 2-4 at Enchanted Hills Camp near Napa, California.
This letter confirms your registration and provides information you will need in advance to make the most of the retreat.
Contents:

General Information
Special Events, Workshops, and Activities
Things to Bring
Directions to Enchanted Hills
Map of Enchanted Hills

PDFs:

See you soon!
Beverly Morgan (Registrar) and the Retreat Planning Team
General Information
Check In
Check in begins Friday at 10:00 AM in the Dining Hall, where you will receive your information folder and room assignment. Check out time is 2:00 PM on Sunday.
Sleeping Accommodations
Every effort will be made to make your stay a pleasant one. Room and roommate assignments are based upon stated preferences and special needs. Enchanted Hills provides blankets, sheets, pillows, pillowcases and one washcloth and towel per participant.
Meals
Seven delicious meals will be served in the Dining Hall—Friday lunch through Sunday lunch. Be sure to inform us immediately of any special food needs you may have, if you have not already done so.
Special Events, Workshops, and Activities
Come ready to nurture your spirit. Feel free to choose from the planned activities or spend time alone or with a friend.
Special Events
The play Winter Wheat: The Betrayal of Elizabeth Cady Stanton and her Woman's Bible will be performed by Laurie James.
Quilter and cartoonist Genny Guracar ("Bulbul") will show her quilt, Women Standing Tall.
Scheduled Workshops
UU Women and Religion Movement: Roots and Branches
Quips, Gibes, Excoriations, Stones, and Mud That Fuel the Superiority of Margaret Fuller
Creating Cartoons on Fabric For Your Protest Posters
Finding Sophia: Re-Discovering and Rebirthing Divine Wisdom In Our Spiritual Lives
Reflecting On Our Journeys
Judgment Of Time: An Accounting of Women's Lives
Threshold Singing
Workshop offerings are subject to change.
Additional Activities This Year
Friday afternoon Dance Meditation – 75 minutes of solo dancing accompanied by energizing dance music.  Allow time for warm up and cool down. (Wear clothing in layers. Bare feet, socks, or dance shoes. Bring/drink plenty of water.)
Friday afternoon Emotional Freedom Technique class
Yoga class, Saturday and Sunday mornings, 1 hour before breakfast
Beading (bring old or special beads, broken jewelry)
Online Tools For Social Action (bring your tablet or notebook; join us online at the retreat
Offer your own activity (please confirm with us in advance)
Regular Activities
Affinity Circles meet three times during the weekend. They provide semi-structured time for conversations around the retreat theme and an opportunity to get to know a few women more deeply.
Ritual and Worship: There will be opportunities for ritual and worship throughout the weekend, including Friday evening ingathering, Sunday worship, and the closing ceremony. If you would like to help create these magical moments, be sure to let us know.
Women & Religion Gathering: On Sunday, we will have our Women & Religion annual gathering. Co-conveners Phyllis Boyson and Jan Bernstein Chargin will facilitate. All are encouraged to attend.
Making the World a Better Place: We'll have a table for petitions, pamphlets, and other information on ways to help our world.
Book Exchange: Recycle your books! Bring a book (or leave a small donation) and take a book home.
Mini-Boutique: Each year we provide space to honor our entrepreneurial spirit. You are welcome to bring items you wish to sell such as hand-crafted goods, jewelry, or self-published books. We request that you donate 15% of your sales to Women & Religion PCD.
Silent Auction: Bring your gift quality items to add to the silent auction tables. The auction also includes a buy-now table. Proceeds go to Women & Religion PCD.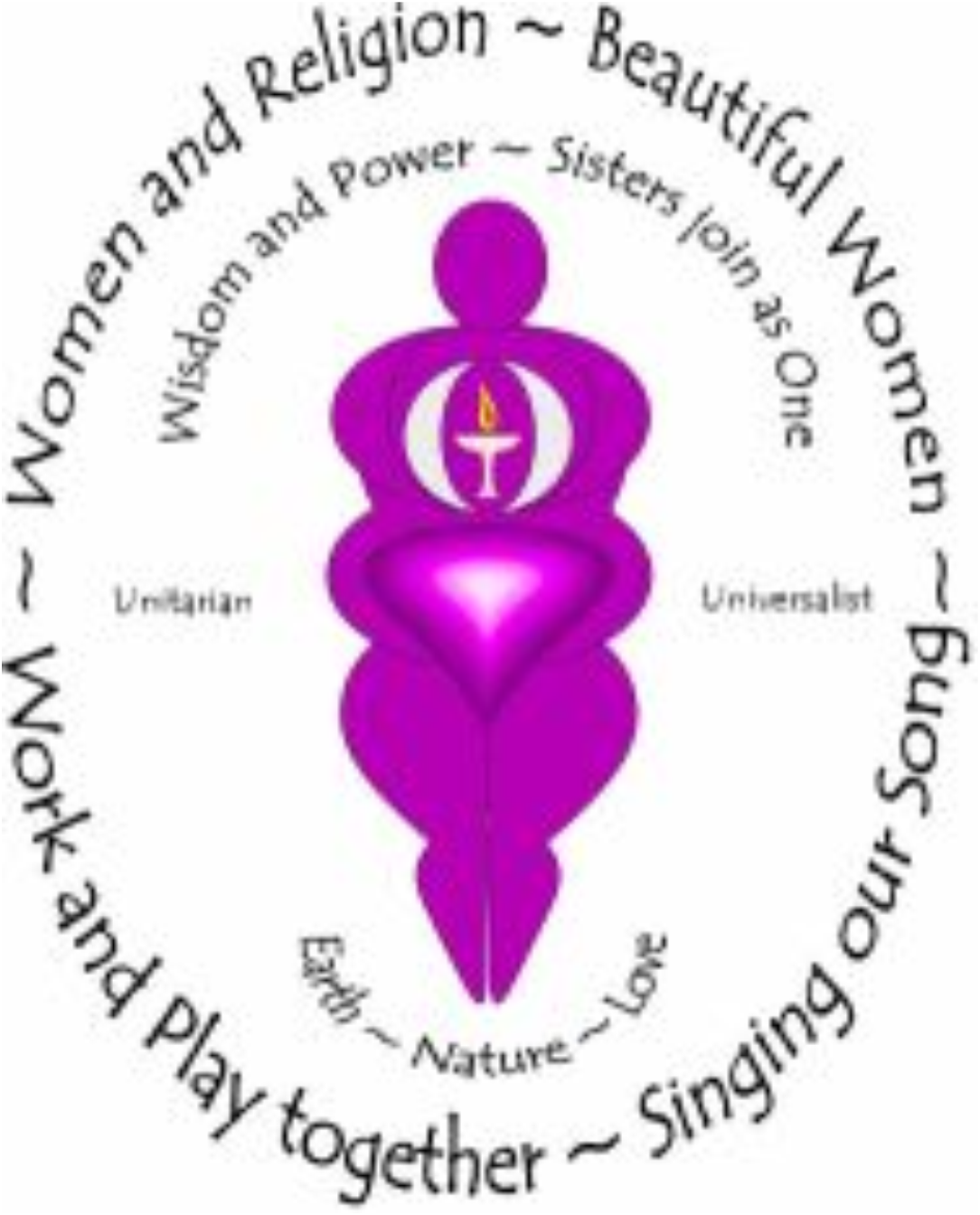 Things To Bring With You To The Retreat
For Your Body
Plan on layers. The weather this time of year is fickle. In past years it has been warm enough to wear shorts and yet one year it snowed!
A warm jacket (it is cold after the sun goes down)
Some of us dress up a little for Saturday evening (this year, the Laurie James one-woman play)
Comfy shoes. One of the buildings used for activities is at the bottom of a steep hill. Onsite transportation is available for any who need assistance. Don't hesitate to ask if you need a ride.
Unscented toiletries. Please note that many of us have chemical sensitivities. We ask that you do not bring scented items including incense, candles, personal products, etc.
A flashlight (for your safety—some pathways are dark after the sun goes down)
Ear plugs (to go to sleep with)
A quiet alarm clock (to wake up to)
A hair dryer
For The Fun Of It
Drums, rattles, musical instruments: you never know when an opportunity to make music might arise
Camera – you don't want to miss any memories
Snacks, juice or wine to share at the Social Hour before dinner. While Enchanted Hills provides wonderfully delicious meals, many of us also bring our own favorite snacks to nosh on when the mood strikes.
Altar items for Sunday's worship – small and special is best
Books for the Book Exchange
Your entrepreneurial Items to sell at the Boutique
Items for the Silent Auction: new or gently used treasures
Checkbook or cash (for the many fun things listed above that you may want to buy). Also, it has become a tradition to "tip" the Enchanted Hills staff after lunch on Sunday and you may want to save a few dollars to add to the basket.
Requested items for any additional retreat activities you may choose to attend (see the list above under "Additional Retreat Activities This Year")
Special Request
We need to borrow a video camera that can record for two hours or longer. Please contact Annie or Geri if you have one we can use — see contact information above.
Driving Directions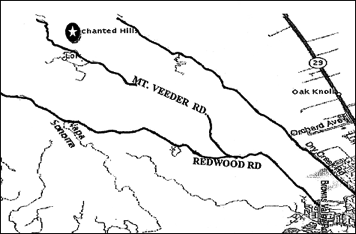 Map of Enchanted Hills Camp. The map is not to scale.
Addendum
Please see the items suggested below and bring what you have to share and swap. (I've personally "scored" some lovely things at the silent auction!) Bring some $$ with you. Also, watch the weather reports for the Napa area and bring appropriate attire — it will be COLD, might be wet as well.
1. The Napa UUFNB group will once again honcho the silent auction, led by Suze Bobzien. Good, clean clothing is welcome…we have some extra racks and hangers this year. Clean out your souvenirs, bric-a-brac, gift drawer; unclutter and recycle for a good cause…our Scholarship Fund. Remember, no scented items.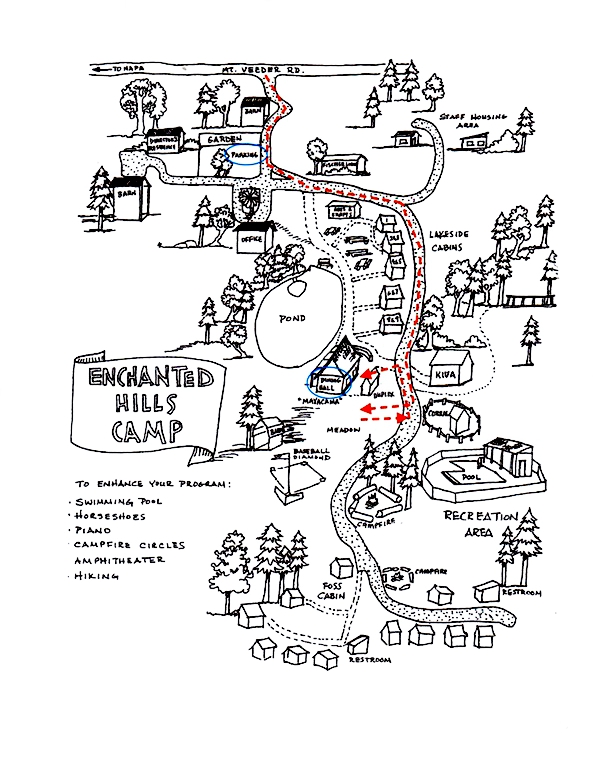 2.We will also conduct the Basket Raffle again, helped by Jane Bledsoe. This is purely a voluntary contribution for each church or area represented. Get a basket or a cute box, ask everyone attending from your area and your congregation to donate one item…a bottle of local wine, homemade jams, cookies, etc., some gourmet item from your kitchen that you won't use, local produce like apples, etc. It doesn't have to be expensive, just put together with fellowship.
3. Friendship Necklace: Sylvia Jones asks you to bring an unusual bead, broken jewelry that can be restrung, "found" beads, etc., that we'll string together to make a Friendship Necklace to auction off. Sylvia has picked up beads from her own collection, at the Enchanted Forest, Angkor Wat and the Taj Mahal, to help make a one-of-a-kind souvenir of the weekend.
Thanks! See you lovely ladies in 5 days!
Beverly Morgan